Reflections and reviews of 2020,
shared
.
Also, be sure to checkout our correlated products at our shop.
Read:
Aimee-Josiane Twagirumukiza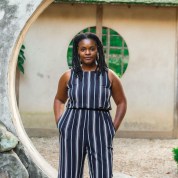 Aimée-Josiane Twagirumukiza (they/them) is a non-binary lesbian and Rwandan immigrant who works as the Black Organizing Director at the National Domestic Workers Alliance. An opinion writer who focuses on the experiences of LGBTQ people and Black immigrants, they are a Public Voices Fellow of The OpEd Project, and currently serve as the Secretary-Treasurer of the National LGBTQ Workers Center, which fights against sexual and gender discrimination in the workplace.
All views and opinions expressed by contributing authors are their own and do not represent those of yaKesho. Licensed content on yakesho.com does not constitute or imply an endorsement or recommonendation of our products or services by the licensor.
When Amy Coney Barrett became the third justice appointed to the U.S. Supreme Court during …